Daria Năstase
Zodia mea – un peștișor cu visuri mari!

Cel mai mult îmi place să comunic cu oamenii și încerc să cunosc această lume, dar, mai ales, să o înțeleg…

Nu suport să văd copii triști…

În timpul liber iubesc, mă distrez cu fiica mea... și… meditez…

Îmi place să ascult … tot ce mă ajută să evoluez... în special muzica clasică! Cred că ascultătorii mei …sunt oameni cu suflet mare, dornici de a cunoaște și a dărui!

Pentru mine Aquarelle 90,7 FM este un refugiu de la cotidian...
Acum Online
«
Monoir & Osaka - The Violin Song
World Hits - Jingle Promo Entry
World Hits - Vanotek Tell Me Who Anunt
Vanotek Feat. Eneli - Tell Me Who
World Hits - Jingle Start
World Hits - Number 5
World Hits - Ed Sheeran Perfect Anunt
Ed Sheeran - Perfect
World Hits - Number 4
World Hits - Katy Perry Chained Anunt
Katy Perry - Chained To The Rhythm
»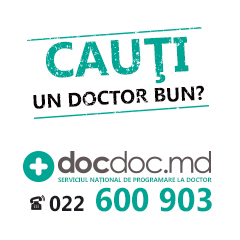 №3
Something just like this
The Chainsmokers & Coldplay
Zara Larsson feat. Ty Dolla $ign
Calvin Harris feat. Frank Ocean
№7
Show you love (feat. Hailee Steinfeld)
KATO & Sigala
Vice feat. Jasmine Thompson
Tim & Collins feat. Whitney Phillips
Marky Style & Guy Gabriel feat. Roxanne
Stargate feat. Sia & Pink
«Alo, Aquarelle!»
tel. 022 223-113
De luni pîna vineri
Numărul scurt pentru
SMS - 9070
cuvinte sincere pentru oameni dragi!